Pixelmator Pro now perfectly supports macOS Mojave
Pixelmator Pro now has been updated to version 1.2 with multiple features added, at a price with 50% off discount.
Pixelmator Pro is an awesome photo editing software for Mac that launched the Mac App Store in November 2017. It got popular because it uses Apple's native api.
After being pushed on macOS Mojave for a month, Pixelmator Pro now has been updated to version 1.2, which perfectly supports the system. The main improvements of Pixelmator Pro 1.2 include the brand new look, automatic Photo Enhance, batch processing of Automator, etc. Recently, the software sells at a preferential price of 30 US dollars (198 dollars in the central district), which is 50% off the original price (60 US dollars). Users who need this shall not miss it.
After update, Pixelmator Pro allows you to change the look in the Preferences. It supports the Dark Mode and customized window background.
You can create your own quick actions of Pixelmator Pro via the image without opening the app.
The support for newly added Continuity Camera has been added. Now you can take/scan photos with an iOS device and transfer them to Mac without any further operation, and add the photo as edit object in Pixelmator Pro.
Additionally, Pixelmator Pro uses ML frame to realize intelligent retouching. Now with the algorithm trained from millions of professional photos, the improved Machine Learning Methods will help you to retouch photos better.
The new version also supports colorful SVG font, realizing richer and livelier design.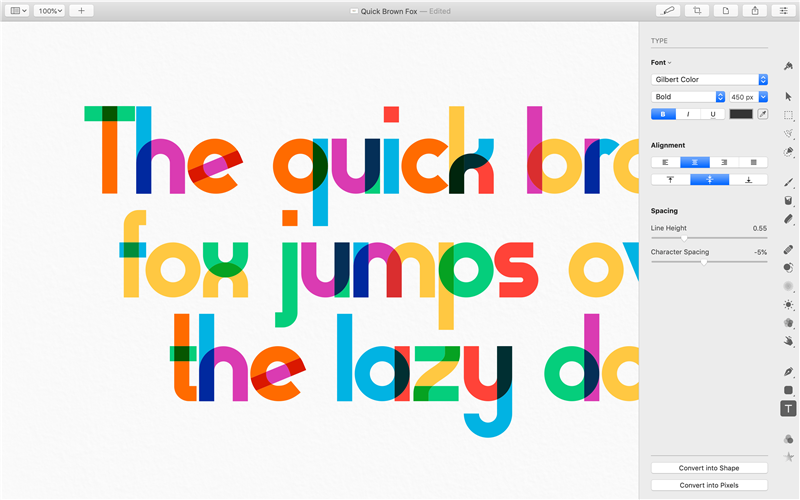 Pixelmator Pro basicaaly has all the tools that you expect on Mac image processor, such as Smart Select, trimming, drawing, color adjustment, etc. The style and functions of the simple GUI and the look of macOS are quite like Apple's official products. It is a potential competitor to Adobe Photoshop. Although the number of its users is not as many as that of Photoshop, but it has advantages including small size, proper price, and better interface of several functions.